Certifications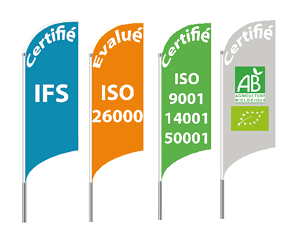 Today, our continuous improvement system is developped from control risks .
In addition to food risks, product quality and environment, we take into account the security, social, financial and legal risks. It is essential that the assessment of these risks and their controls are at the heart of our system.
We are certified according to the standards ISO 9001, ISO 14001,ISO 50001 and IFS to meet the requirements of our customers.
We are also certified ECOCERT to meet the growing demand for organic agriculture market